** Latest news on ISL Office Solutions ALL NEW Online ordering website!!! **
Having worked closely together with our new software partners, ISL is proud to release it's very latest webstore offering. This offers our customers an ALL NEW interface with larger product range, massively improved search functionality, contract pricing, previous orders and even invoice sections!
Click below to have a browse – but please remember pricing is not live unless you have a logon! If you are interested please call or email the sales team here at ISL and we can get you up and running in moments with your access details!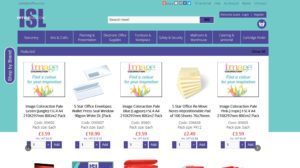 We really hope you like the improvements!